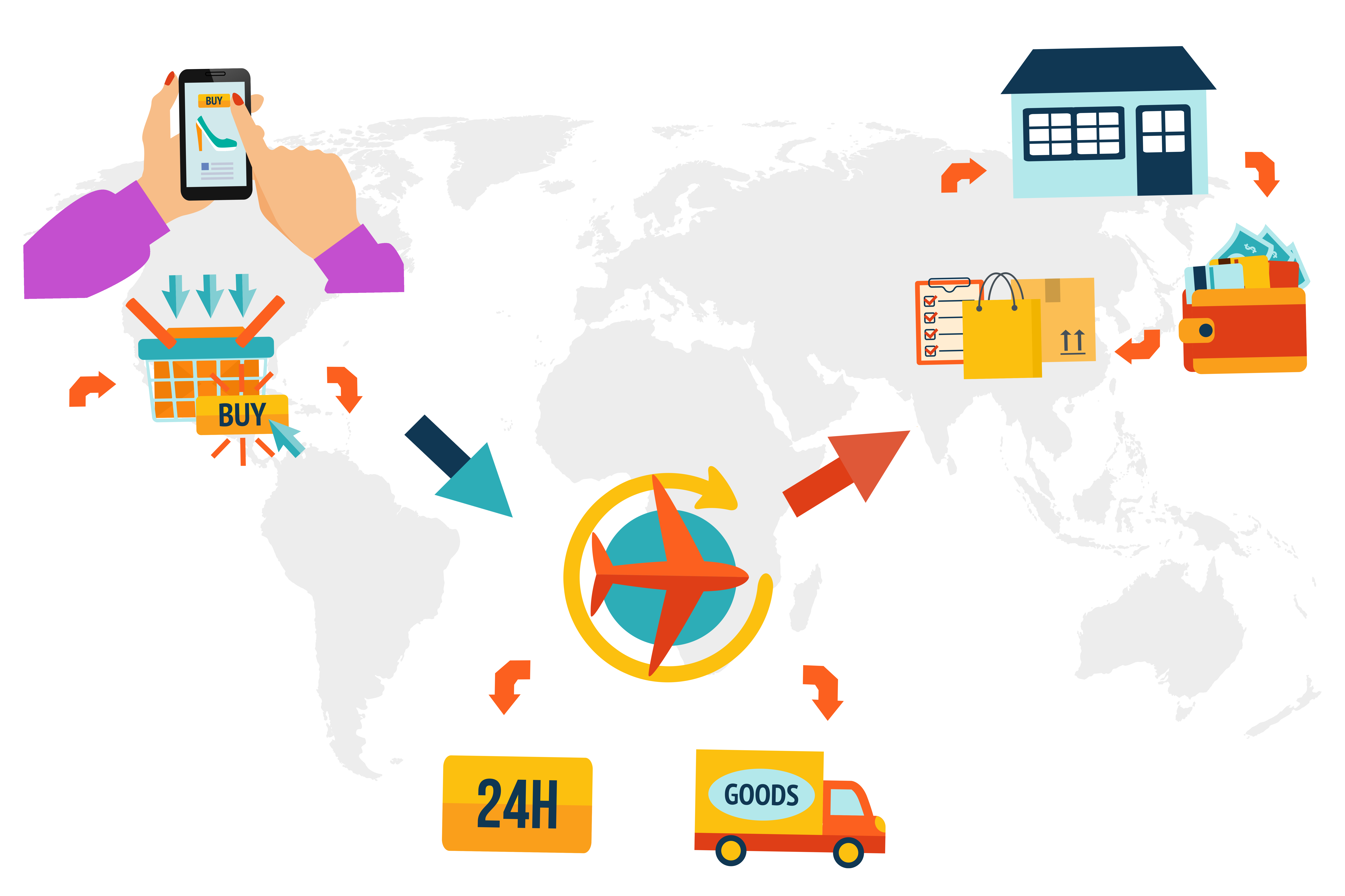 Drop shipping trends in US
The global drop shipping market size is projected to hit USD 557.9 billion by 2025, recording a CAGR of 28.8 percent over the forecast period, according to a report conducted by Grand View Research, Inc. Increasing customer inclination toward online shopping sites, coupled with the proliferation of internet users, is anticipated to positively impact market growth. Dropshippers provide retailers with services such as direct delivery of products to clients and management of inventory. In addition, the advantages offered by dropshipping services promote the use of these services by e-commerce firms, as the delivery of products/goods is not limited to the country's internal borders and can also provide deliveries of products across international borders.

The e-commerce industry has favoured rising disposable income and increasing internet and mobile penetration, thus affecting the acceptance of dropshipping. Dropshipping helps e-commerce firms to capitalise on investments in warehouses and logistics. In addition, less capital investments in inventory and logistics have resulted in increased demand among retailers for dropshipping.

Because less investments are required for product warehousing, resulting in reduced shipping and logistics costs, some e-commerce start-up companies opt for dropshipping services. The rising number of customer online transactions has made it possible for new e-commerce businesses to emerge. Inclination of emerging e-commerce companies toward drop shipping business is further generating avenues for market growth.

Dropshipping Product Outlook (Revenue, USD Million, 2015 - 2025)

Toys, Hobby, & DIY

Fashion

Furniture & Appliances

Food & Personal Care

Electronics & Media

Dropshipping Regional Outlook (Revenue, USD Million, 2015 - 2025)

Europe

France

U.K

Germany

Asia Pacific

China

Japan

India

Latin America

Brazil

Mexico

Middle East & Africa

How does it work with drop shipping?

An e-commerce company chooses to sell consumers a new product. The business researches until they find a producer interested in partnering with a supplier to sell their goods instead of purchasing mass quantities of the product and storing it and sending it out themselves. The retailer approaches the manufacturer and reaches an agreement: on its website, the retailer will host and make the sale of the product offering, and the manufacturer will ship it out. The supplier is the company that both makes, stocks, and ships the product. The two firms, the retailer and the producer, are drafting a contract setting out the product's price and shipping costs. The retailer may agree to pay $75 for a product to the seller, so they might want to list the product on their website for $100, leaving them with a $25 profit.

What errors do businesses make when shipment drops?

When introducing a drop-shipping business model, one pitfall among online companies is attempting to launch all at once. Firms can ensure a smooth implementation by doing their homework and taking it one step at a time. Other errors include depending as the key source of revenue on drop shipping and not incorrectly knowing costs or margins and pricing goods. Retailers ought to weigh the cost of the actual item and the costs to the retailer, as well as the costs of attracting consumers, when it comes to margins. It is important to quantify promotional costs across the inventory, including drop-shipped items, through the margins.The error of not having a good relationship with their supplier may also be made by retailers. If necessary, retailers should aim to meet face-to-face with suppliers. The relationship then becomes more of a partnership and less transactional.

What is the future of the industrial model of drop shipping?

Drop shipping is becoming more competitive because businesses are so margin-crunched. If companies think more critically about drop shipping and consider where the best opportunities can be created by drop shipping, it can exist for a while. If physical stores start keeping less inventory on site, Drop Shipping can come into play more. Experiential stores with extremely limited inventory are now open. Customers may come in and try a shoe or a clothing item, then order directly from the store online. This opens up an opportunity to set up physical stores for digitally native businesses built on drop shipping, so they do not need to keep the entire inventory and can still use drop shipping to distribute goods. It will continue to exist and operate for companies as long as drop shipping is included in omnichannel experiences like these.
Assess your business potentials and find opportunities
for bigger success